Letter From Our Director
Our Director, Dr. Alison Moore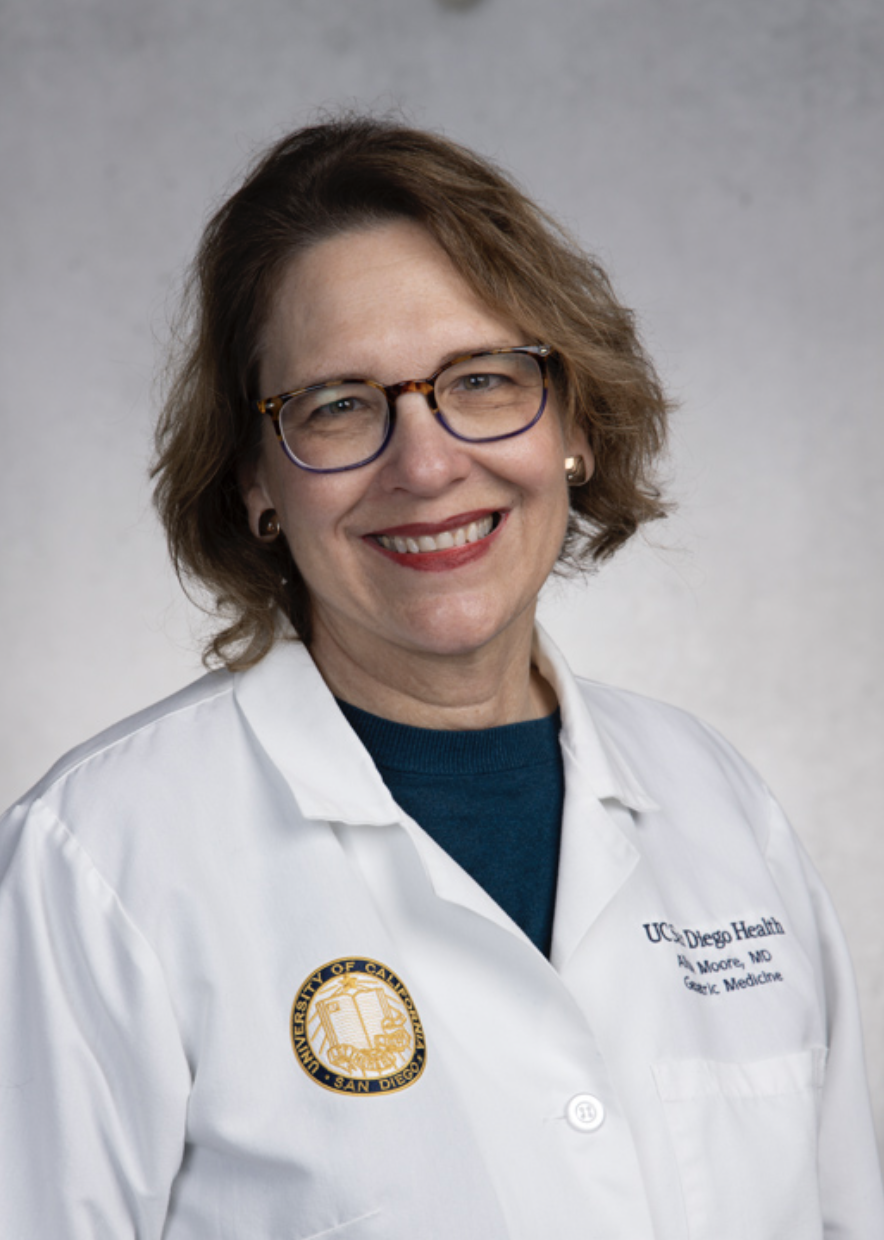 I am thrilled to have been appointed to be Interim Director of the Stein Institute for Research on Aging and the UC San Diego Center for Healthy Aging. This is a wonderful opportunity to continue the impactful and important work conducted by Dr. Dilip Jeste and the Stein team and to explore new areas for investigation, training, and ways to engage with our community - with you. I love building programs, mentoring, and connecting with patients and the community so this job is a dream job for me.
To let you know a little more about me, I came to UC San Diego from UCLA in 2016 with the help of Dr. Jeste, who led the search committee for my position as Chief of Geriatrics at UC San Diego. I decided to come here in part because of the Stein Institute and its strengths in aging research, training, and community engagement and to have the chance to lead and grow a world-class geriatrics academic program. I had the resources to recruit a few others so I, fortunately, recruited Anthony Molina, PhD, a gerontologist, from Wake Forest University to be Vice-Chair of Research in the division. With his arrival, we changed the division name to Geriatrics and Gerontology and hired additional researchers, further developed our portfolio of aging research, and also grew our research and clinical training, and clinical care and educational programs. A few years later, we had the opportunity to merge with Palliative Care, then based in the Moores Cancer Center, and once again changed our division name to Geriatrics, Gerontology, and Palliative Care. Joining our wonderful geriatrics team who provide high-quality primary and consultative care to older adults as well as train others to do the same, Palliative Care includes an amazing group of clinicians and educators who provide supportive care to those with serious illnesses and educate many trainees. I am extremely proud to say that were recently ranked #17 for Geriatrics in U.S. News and World Report's annual Best Hospitals survey.
Over the time I have been at UC San Diego, I have loved the collaborative spirit here and have been able to work on many projects and initiatives with a variety of groups at the university, health system, and the broader scientific, community-based service organization, and older adult community in San Diego.
In the position of Interim Director, I hope to leverage the successes of the Division of Geriatrics, Gerontology, and Palliative Care, and those of our networks with the Stein Institute for Research on Aging and the Center for Healthy Aging. I aim to both nurture the current work and engage in new and exciting programs focused on aging, training in aging research, and community outreach. I anticipate the outcomes will lead to new discoveries, new training programs, and even greater community engagement to improve older adults' lives - here in San Diego and all over the world.
Alison A. Moore, MD, MPH, FACP, AGSF
Interim Director, Stein Institute for Research on Aging and UC San Diego Center for Healthy Aging
Larry L. Hillblom Chair in Geriatric Medicine
Professor of Medicine
Vice Chair for Justice, Equity, Diversity and Inclusion, Department of Medicine
Chief, Division of Geriatrics, Gerontology and Palliative Care
University of California San Diego