Upcoming Events
---
Wednesday, June 14th
The Gerontology Research Collaborative (GRC) and the Stein Institute for Research on Aging are proud to announce the "In This Day & Age" Seminar Series, a reinstatement of our highly anticipated monthly seminar series. Our mission is to highlight cutting-edge and multidisciplinary aging research happening in this day and age within the San Diego community and beyond. Please join us for an exciting inaugural June session!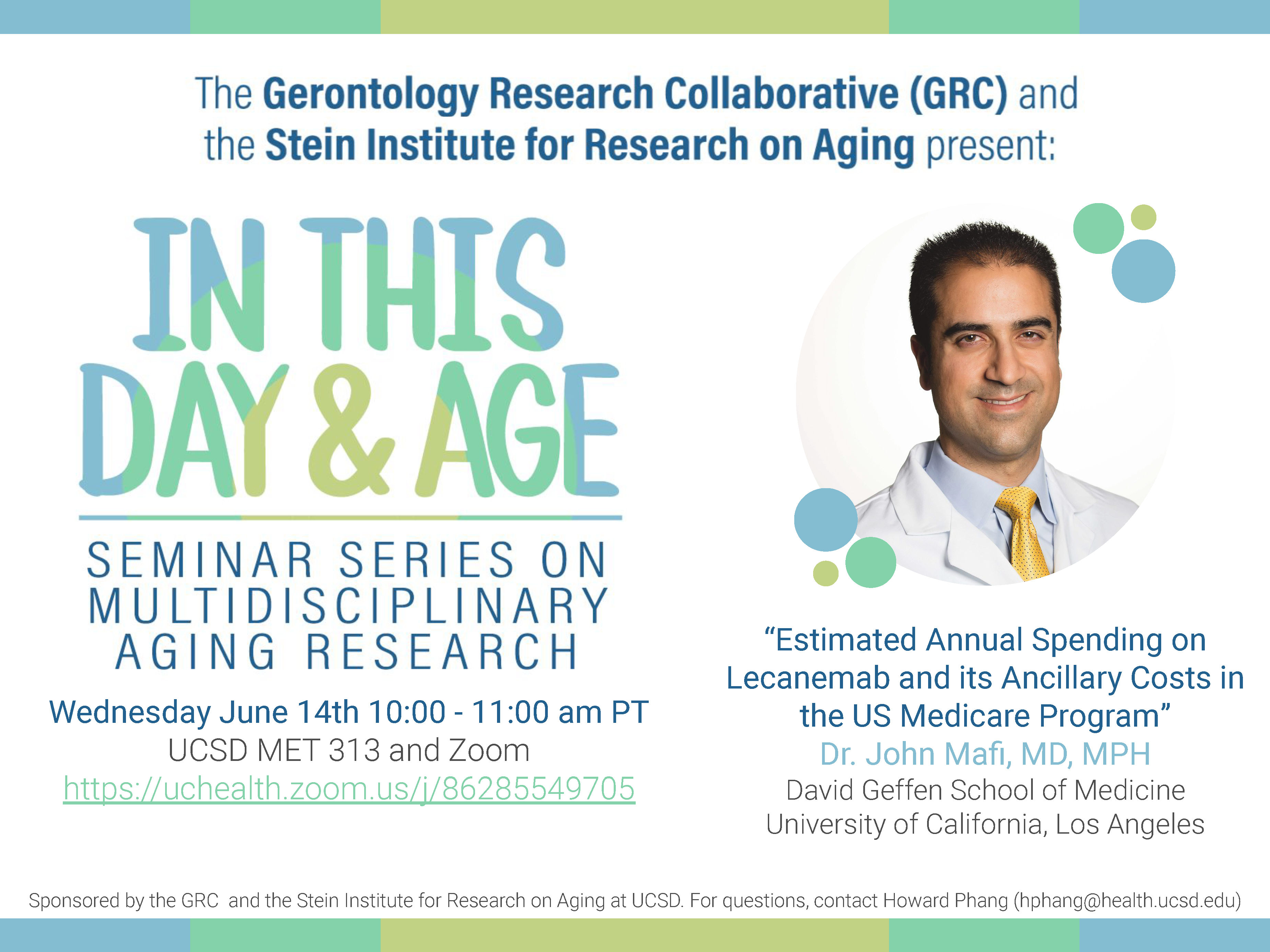 Description:
As we approach the anticipated FDA approval of the anti-amyloid drug, lecanemab, the medical community is preparing for a significant expansion in Medicare coverage. This transition, however, is coupled with lecanemab's substantial list price of $26,500—a cost that could potentially increase premiums for Medicare's 60 million beneficiaries.
For our first seminar presentation of the season, we're delighted to present Dr. John N. Mafi. As an associate professor of medicine at UCLA and RAND, and a leading voice in healthcare value, aging, and policy, Dr. Mafi will shed light on the potential impact of lecanemab's approval on the U.S. Medicare program, emphasizing its financial implications for beneficiaries.
We invite you to join us in this insightful discussion as we navigate the potential changes in Medicare policy and explore their implications for the geriatric community.
---
Wednesday, July 26th
The Stein Institute for Research on Aging and Center for Healthy Aging offer free public lectures promoting physical and mental well-being and staying active throughout life. Join us for this popular series with renowned researchers and clinicians sharing their expertise with the community.
Please join us on July 26, 2023 at 4pm for a talk with Barton Palmer, PhD. Q & A to follow.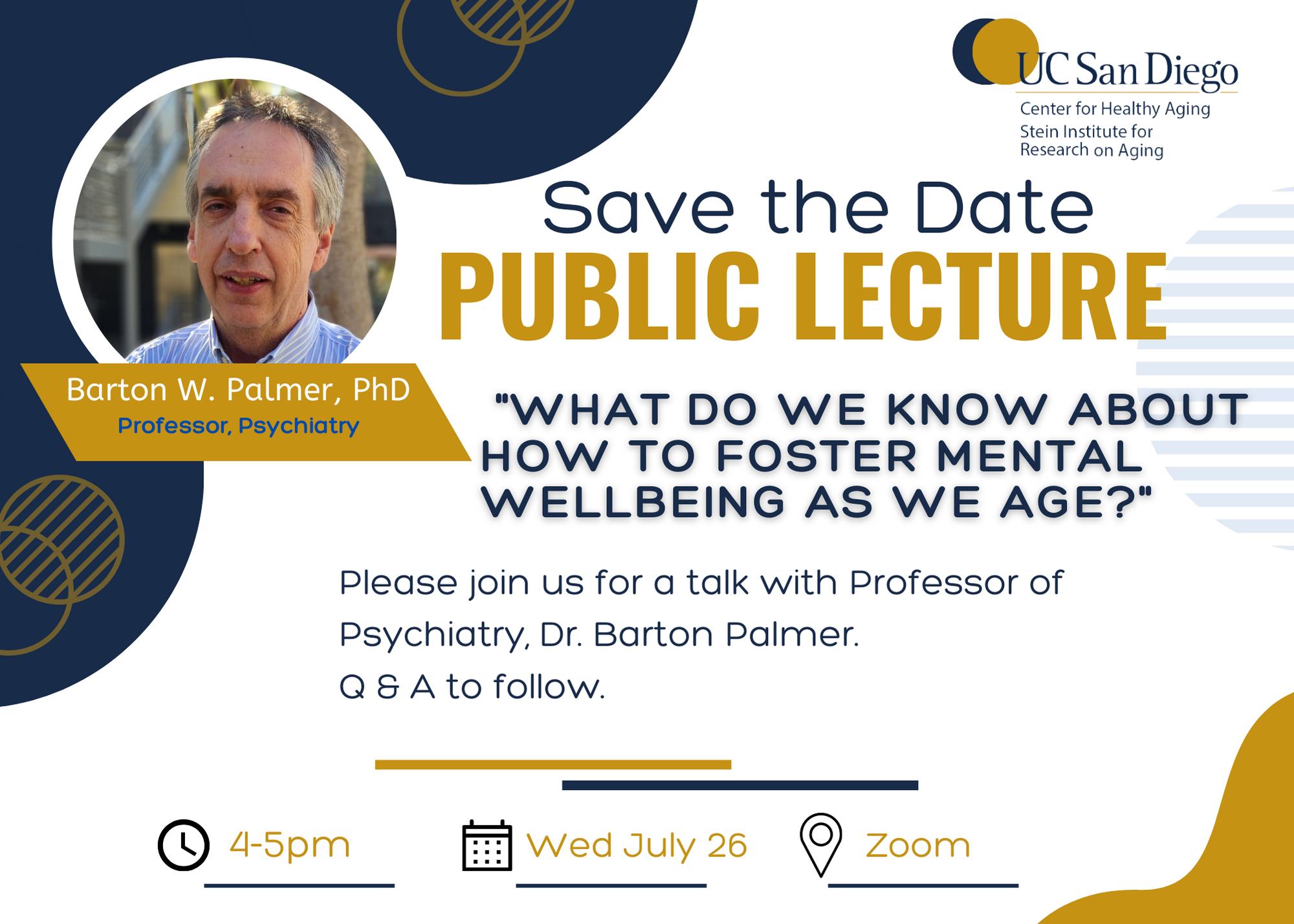 Barton Palmer has been a member of the UC San Diego Department of Psychiatry Faculty for over 25 years, and a faculty affiliate of the Stein Institute for Research on Aging for over 15 years. He received his PhD in clinical and cognitive psychology from the University of Illinois at Chicago, and then completed a two-year clinical-research fellowships in neuropsychology at UCLA, and a subsequent postdoctoral research fellowship in geriatric mental health at UC San Diego prior to joining the faculty in 1997. His research interests have been varied across several aging-related topics, but current foci include the effects of loneliness and social isolation on physical, cognitive, and mental well-being and the use of positive mental health constructs and strengths-based interventions to promote mental well-being and social connectedness among older adults with or without neuropsychiatric disorders.
---
Friday, October 6th
We are pleased to announce that our annual Center for Healthy Aging symposium will be held in person this year! This is our first in-person event since the pandemic. This all day event will be focused on the topic of Healthy Longevity and will showcase researchers from UC San Diego and beyond for keynote lectures and panel discussions. 
Please join us on October 6, 2023 9:30 a.m. to 4:00 p.m. at the new UC San Diego Park and Market event space. More details to follow.