We are dedicated to the development and application of the latest advances in biomedical & behavioral science knowledge to issues of successful, healthy aging and the prevention & reduction of the burden of disability and disease.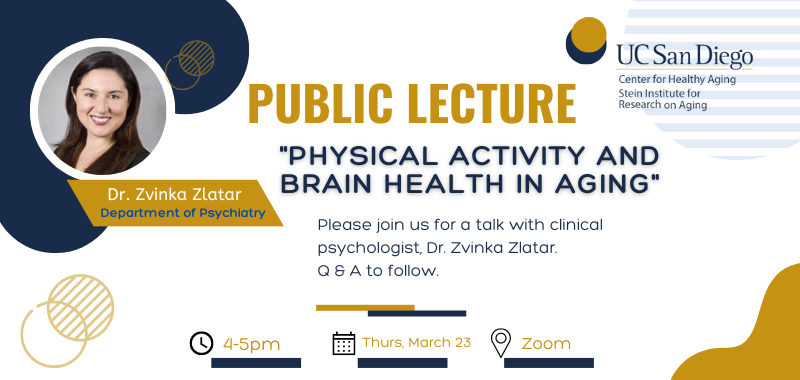 Public Lecture Series
The Stein Institute for Research on Aging and Center for Healthy Aging offer free public lectures promoting physical and mental well-being and staying active throughout life. Join us for this popular series with renowned researchers and clinicians sharing their expertise with the community.
What's Happening
Leadership Transition
We are pleased to announce that Alison A. Moore, MD, MPH, FACP, AGSF, has agreed to serve as Interim Director for the Stein Institute for Research on Aging and the UC San Diego Center for Healthy Aging, following the retirement of Dilip Jeste, MD.
Congratulations to Kevin Yang
Kevin Yang is the recipient of the 2022 Stein Institute's Jackuelyn Harris Award for Excellence in Aging Research!
Support the Center
Please consider donating to our mission! Your donations fund age related research, community events, they allow us to train the doctors of tomorrow, and much more.