Meet This Month's Successful Ager: Christa Stahl
BY JANE SAWYER
Christa Stahl's bright blue eyes and ready smile bespeak her enthusiasm for life. This eighty-two-year-old is an avid body-boarding enthusiast. Two or three days each week, she meets friends in Solana Beach or Encinitas to ride the surf. While she chuckles about recently getting a thumbs-up from a five-year-old with whom she'd shared a wave, she enjoys the camaraderie of the ladies and says that bodyboarding is like a meditation for her. Out on the water, she thinks of nothing else, and she gets a sense of well-being from the ocean.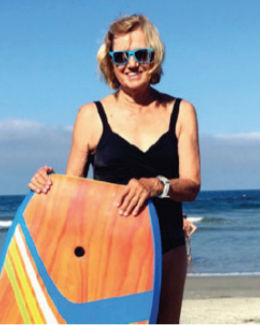 Stahl is long retired from what she calls her first career in public school teaching as well as her second career in hospital volunteer management and community services, but she's recently taken a new volunteer position. It is unusual for someone her age to pursue the extensive training to become a court-appointed child advocate, but she passed the screening, took the training, and was recently paired up with a foster child.
Stahl sought the position as a child advocate after some soul searching and realizing that she wanted to do something that held more meaning for her. Following the recent death of her ninety-three-year-old husband, she was "very, very blue." No stranger to loss, she had previously relied on reading about surviving the loss of a loved one, receiving the support of family, and healing and sorting out the next steps in life with a few good friends. She's even provided support to others who, like her own family, are survivors of a family member's suicide. When the sense of loss after her husband's death and hospice bereavement services lingered, she knew to seek one-on-one counseling. The idea of becoming a court-appointed advocate came out of those conversations. Asking for help and adapting to change are the keys to successful aging she says, so she simply took some of her own advice.
Stahl also believes it is important to smile. "Gravity does take its toll on us, and our mouths begin to just naturally turn downward," she said with a mock grimace. "I just don't want to be one of those old ladies who walk around with a frown on her face, so I try to smile and think happy thoughts when I can."