Makeda "Dread" Cheatom: Community Weaver, Culture Creator, and Bridge Builder
BY KASSIDY WADE
On April 21st, a curious group of UC San Diego students and professors came together to learn from this year's Wise Elder Changemakers. Each of these distinguished older adults has greatly contributed to our society and fostered change for different communities, land spaces, or movements. The panel served as a model for inspiring younger generations to create change, to celebrate the accomplishments of the Changemakers, and to initiate intergenerational connections.
Through the series of Successful Agers in Action authored by Kassidy Wade, a UCSD student, we will explore the ways in which these amazing Changemakers bolstered change for the betterment of our society.
The spotlight this week shines upon the amazing peacemaker Makeda Cheatom, a civil activist in San Diego's African-American community, founder of the WorldBeat Cultural Center in Balboa Park, creator of the Children's EthnoBotany Peace Garden, and co-founder of Casa del Tunel in Tijuana, Mexico.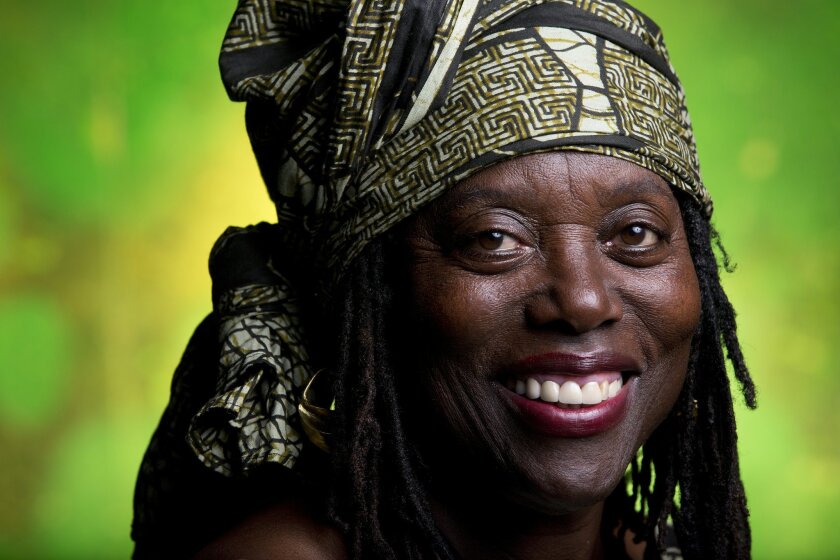 "What has inspired you, pushed you, or compelled you to do the work that you've done in your life", asked Leslie Lewis, PhD, the UC San Diego Urban Studies and Planning professor and founder of the Life Scholars Program and the Wise Elder Changemaker Award.
"I would say racism," stated Makeda "Legend" Cheatom.
Makeda was inspired by multiple episodes of racism throughout her childhood, once being arrested by the police at the age of twelve for simply running. In her teenage years, she assembled a group to stand up for a young boy who was wrongfully imprisoned. Ever since, Makeda has been dedicated to reclaiming culture. "The first thing they ever took away from Africans and a lot of indigenous people was the drum."
She has since opened the WorldBeat cultural center, a gathering place with daily events, a children's garden, and a vegan cafe. Ironically, the center is shaped like a drum, and is right outside of Balboa Park, which once banned drumming, it has since become a safe haven to reclaim and celebrate many indigenous cultures. Outside of the center is the Children's Ethnobotany Peace Garden, a beautiful sanctuary that has become a classroom for people of all ages across San Diego. The garden specifically highlights the role of plants in society today and showcases indigenous plants that have importance in Kumeyaay tradition. The garden is the first sustainable and edible garden in Balboa Park. The garden provides food security to people around San Diego that are facing the food and water crisis. Makedas' garden has recently partnered with the Cornell Lab of Ornithology to study the effects of noise pollution in underserved populations. Many of the plants are also harvested for Makeda's nutritious, vegan cafe serving Caribbean soul food. The vegan cafe was the first vegetarian restaurant in San Diego, opening in 1971, it was originally called the Prophet Vegetarian Restaurant! Makeda mentioned that food is a huge part of her community's tradition, and to reclaim their culture is to reclaim their traditions. Makeda opened the vegan cafe to reclaim culture, and provide sustainable, healthy, and nutritious foods. She herself has lived on a vegan diet for years, claiming:
"You are what you eat and you become what you think." –Makeda
Makeda highly recommends meditation, she herself has been meditating for dozens of years. She even holds different meditation events at the WorldBeat Cultural Center! She mentions that mediation reminds her about the impermanence of life. When she was asked at the panel about a source of strength for her, she spoke of her Creator and her ancestors that guide her. She stated that: "Suffering is a part of this world. Because we are in impermanence, the world continues to move, so it is important to not hold on to anything, because you know it's impermanent." What a wonderful piece of advice for such a stressful time in the world.
Makeda also has her own radio broadcast called Reggae Mokossa, on 101.1 FM. As well as a television program called WorldBeat Live. Through these platforms she spreads love and peace to all oppressed people in our community. Her radio station radiates reggae music and African culture. (CityMedia Magazine) This is just another way that Makeda has strove for unity and has celebrated cultural diversity.
Makeda is a truly inspirational person, her profound impact on our community is shown through the numerous awards that she has received for her service. The Women's Museum of California recognized Makeda as a Cultural Competent Bridge Builder in 2012. That same year she was inducted into the San Diego County's Women's Hall of Fame. She has won the Channel 10 Leadership Award, as well as awards from the Water for Africa Foundation, International Rescue Committee, and with Project Concern International. (WorldBeat) Awards alone are not the measure for the indescribable impact she has had on our community. Rather, it is the individual interactions she has had that have inspired, empowered, and dispersed love to individuals in our community. Those interactions impacts' are immeasurable.
Below are a few quotes that describe Makedas mission within our community:
"Makeda 'Dread' Cheatom is dedicated, committed, and determined to raise world consciousness through music, dance, and the arts. She promotes unity in diversity while teaching world peace." (WorldBeat Cultural Center)

"Makeda believes music, art, dance, and culture will unite all races, all cultures, and all people across the world." (NAACP San Diego Branch)
When asked what advice she would give to young changemakers, Makeda replied:
"My advice to the youth is to have purity of the heart, clarity of the mind, and sincerity in action." May you think of Makeda and her advice throughout your lifetime, and always stay true to your purpose.
An article alone could never properly summarize the impact of Makeda's service to our community, rather, the purpose of this article is to celebrate her, to spread her purpose further through our community, and to inspire others to fight for world peace, unity, and justice.