A Conversation with Rosemary du Aime
BY JANE SAWYER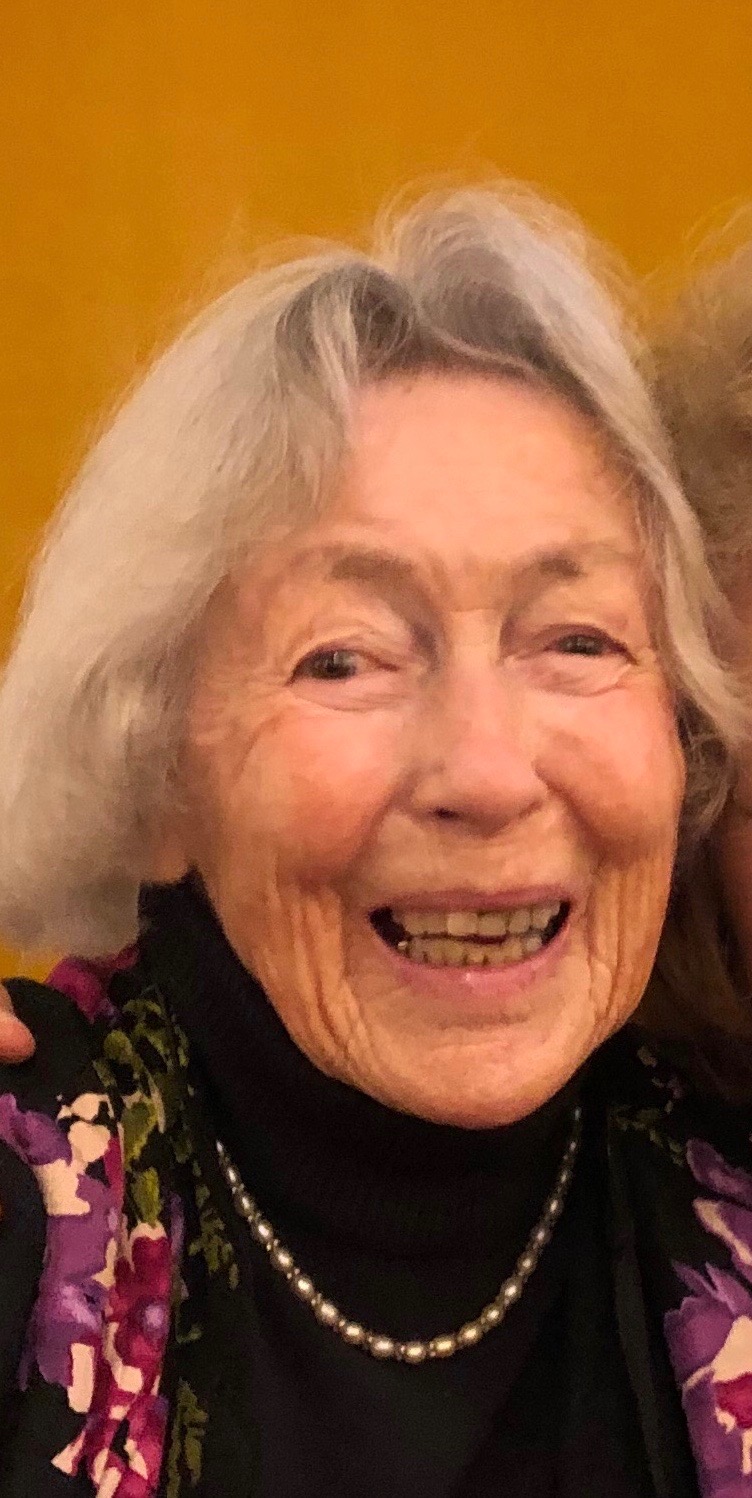 Rosemary du Aime is a youthful-at-92-year old lady who divides her time between Solana Beach, CA and Paris, FR. In Solana Beach she swims a half hour in the mornings; takes weekly Spanish, French and literature classes at the library; attends yoga and exercise classes at a church; drives herself to the symphony and opera and attends speaker and social events with a newcomer's club. She reads at least 2-3 library books a week and her well-planned monthly calendar indulges her varied interests, but "always", she says, "allows her to meet new people, which is a necessity in later years." Her voice trails off, acknowledging the empty spaces where friends and loved ones once lived, yet in the next breath she lightens up with a smile talking about the future.
Rosemary speaks with a lilt in her voice, bouncing through sentences with the unmistakable vocals of a long-time kindergarten teacher. Her eyes smile, tone engages, and she can transport listeners back to the enchantment of kindergarten stories, including the day she, husband Albert and their four children visited her fellow teacher's houseboat at Port Marly (Paris) and an excited Rosemary exclaimed, they too should live on a boat!! They did. In summer 2019, after fifty years, she sold the boat that truly became a home and source material for a litany of construction, maintenance and live-aboard challenges, described in, Houseboat on the Seine, penned by her husband in 1996.
Vitality springs from Rosemary's five foot five inch frame and during her senior year theater production at Saint Monica's High School, she caught the attention of Paramount Studios Director, John Farrow, (father of Mia). After graduation, she signed a two year contract to study theater and drama and screen test for the studio. While the movie star career was never to be, she had wisely co-enrolled at UCLA on days off from Paramount and paid her whopping $32 a semester tuition leading to graduation with an English Literature degree.
From the summer 1943, when her family drove across the country, from Philadelphia to Santa Monica, Rosemary Henry's life unfolded at a rapid pace. She completed high school, met future husband Albert du Aime, home on leave before he parachuted into France five days ahead of the Normandy Invasion. She earned a degree at UCLA, worked for the prestigious Rand Corporation, married Albert, bought a home in Topanga Canyon and gave birth to three children.
When fire in Topanga Canyon destroyed their home (among 70 others), the du Aimes did rebuild-- but rented out the house, and the family moved to Europe, where they hoped the children would enjoy the positive influences of art and history, while avoiding the growing influence of TV and other excesses they saw in the US. After buying a 330 square foot apartment in the Latin Quarter in Paris, Albert painted prolifically, showing his work in Europe and the US, while Rosemary launched a 24-year teaching career at the American School in Paris and the three children, now joined by a fourth, benefited from the international education. Life was unconventional, as they avoided weekday Paris traffic by living on the boat; entertained friends and collectors of Albert's art at a 17th century mill purchased in Burgundy; rented their homes to fund months of family travel; and worked together as a couple to focus on the family amid literary and film successes while trying to avoid its' commercialism.
Life was evenly punctuated by Rosemary & the children's school schedules and long summer vacations. The predictability of each school year and Rosemary's steady attention to what was good for their family and her husband's strengths, steadied their course as her husband, who had survived disabling physical and emotional wounds from WWII, gained recognition, painting primarily in the Latin Quarter and then as an internationally known novelist. Using the pen name William Wharton, his first book, "Birdy," won the American Book Award and from their houseboat, he penned an additional 11 published novels, three becoming movies and became famous, especially in Poland.
As in life, the du Aime family rallies together, honoring the husband and father who died in 2008, leaving behind an extensive painting collection. Located in Burgundy, the village of Montigny en Morvan, is where the du Aimes years ago bought an ancient mill/home and vacationed and where the youngest son, William, hosts visitors to the Visual Arts center where Bert's paintings are displayed. There is also a website. The family suffered tragedy in 1989, as an automobile accident took not only their oldest daughter Kate, but Kate's husband and two of her children—then an infant and a toddler.
Today, Rosemary's remaining three children and their families live in Atlanta GA, Prague CZ and Morvan, FR. With a life that arcs between the arts, literature, life-long learning, and family, Rosemary du Aime, brings her positive attitude, warmth and light into any room. Like the little kindergarteners she nurtured and cherished through the years, she smiles towards the future, looking for her next good time, albeit, on her own now.